SKUNK REMOVAL PETERBOROUGH
Professional and Guaranteed
SKUNK CONTROL By
WILDLIFE SHIELD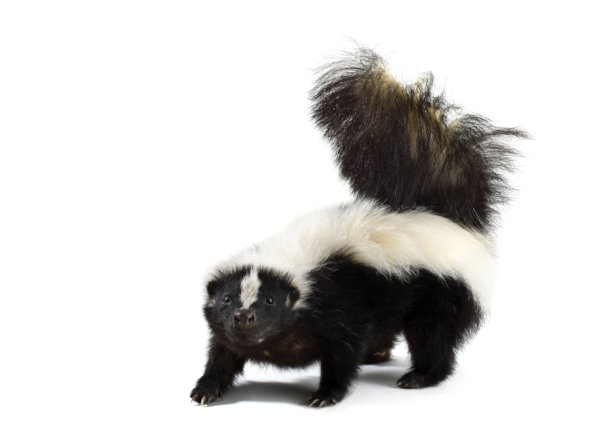 SKUNK REMOVAL PETERBOROUGH
Professional and Guaranteed
SKUNK CONTROL By
WILDLIFE SHIELD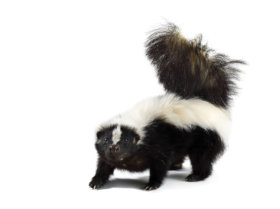 SKUNK REMOVAL PETERBOROUGH
Skunks are common in Peterborough and throughout the Greater Toronto Area. These are smart animals that have adapted to urban living. Skunks invade porches, sheds, and crawl spaces in search of a safe place to hide. They are not very dangerous, but they can cause a lot of damage. They are also famous for their spray, which stinks up the neighbourhood for weeks at a time. Skunks are troublesome animals that should be kept off your property.
We provide humane and effective skunk removal services. Our technicians are licensed, insured, and experienced in all forms of skunk removal. We have the tools and expertise to solve skunk problems once and for all. Call us today for an inspection.
CALL US TODAY AND OUR LICENSED AND TRAINED PROFESSIONALS WILL SOON BE AT YOUR DOORSTEP WITH A GUARANTEED SOLUTION.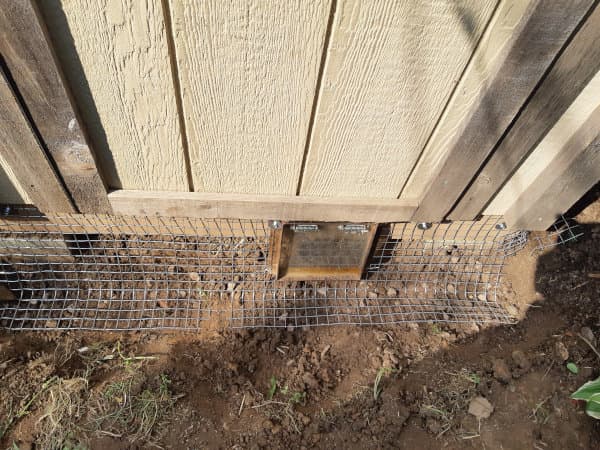 The first step of the removal process involves a detailed inspection in which we look for the skunk's den and all other potential areas of animal harborage. We check every nook and cranny on the exterior to identify where animals could break in and cause damage. This gives us a comprehensive understanding of the situation and enables us to provide the best service possible.  
Following the inspection, we remove the skunk by installing a one-way door to its den. This consists of a flap that swings outward, letting the animal out safely. Once the animal has left its den, we remove the door and replace it with an impenetrable mesh. In some cases, we use live traps. To ensure that the animal does not come back, we then seal all the entry points identified during the inspection. We offer guaranteed, comprehensive exclusion services that keep wildlife from invading the home.
Our  wildlife shield experts do everything they can to ensure that skunks are removed humanely. Every member of our team is thoroughly trained and experienced for your peace of mind. They also have access to commercial-grade disinfectants and deodorizers, so they can remove the germs and odours that skunks have left behind.
COMMON SIGNS OF SKUNK PROBLEMS
Skunks are most active in the spring and summer. They do not hibernate, but they are rarely spotted in the wintertime. Skunks are quiet, nocturnal creatures, so they can be hard to spot during the day. However, there are some signs you can look out for. If you have noticed any of the following, give us a call and a technician will come to inspect.
Finding holes in your flowerbeds and vegetable gardens may indicate a skunk problem. Skunks dig in the soil in search of grubs and insects. A typical skunk hole is 3 to 4 inches deep. Skunk tracks show four or five toes and usually have visible claw marks. Skunk droppings resemble those of a cat and may contain bits of seeds and feathers.
Skunks are burrowers that dig under decks, sheds, and extensions for shelter. Finding a gap between the soil and the structure above may indicate a skunk problem. Skunks may also be found in hollow logs, woodpiles, and garages that are separate from the house.
The smell of skunks is perhaps the most obvious sign of all. Skunks release a toxic chemical from their anal scent glands when they are frightened. The smell is unmistakable and can last for days. Smelling this on a regular basis may point to a skunk invasion.
Skunks are known to spread illness and parasites. These are wild animals that may carry things like fleas, ticks, or canine distemper. If you have pets, they could get very sick. Crossing paths with a skunk might also mean that you get sprayed, which will smell for several days. Getting sprayed near the face may cause serious irritation and other complications. Pets that have been sprayed will require a visit to the veterinarian.
Skunks are not only a health hazard but a nuisance to your yard. As omnivores, they will feed on your produce, uproot your plants, and put holes in the grass. Skunks should be removed as soon as possible to avoid any of these problems.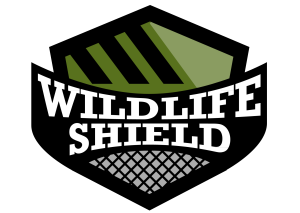 WHY YOU SHOULD HIRE A PROFESSIONAL SKUNK REMOVAL SERVICE
Professionals have the training and equipment to get rid of skunks properly. They know skunk behaviour and will avoid getting sprayed. Technicians ensure that the animals are not harmed in the removal process and they can keep them out, too. Professionals understand what attracts wildlife and they have the tools to keep them off your property.
Removing a skunk by yourself is a challenge because you risk getting sprayed. Failing to pest-proof the area may also result in repeat invasions. Trapping a skunk risks injuring the animal or separating a mother from her young, which is inhumane. Relocating skunks is also illegal in Ontario.
Hiring a professional skunk removal service is the most reliable way to get rid of skunks. Save yourself the trouble and have a professional remove the animal safely. Licensed removers usually guarantee their services and will come back if the skunk returns to its burrow. The technicians at Wildlife Removal Guelph are experienced in skunk removal and would be happy to help. We provide extensive warranties on every one of our services.