RACCOON REMOVAL PETERBOROUGH
PROFESSIONAL AND GUARANTEED

RACCOON REMOVAL SERVICES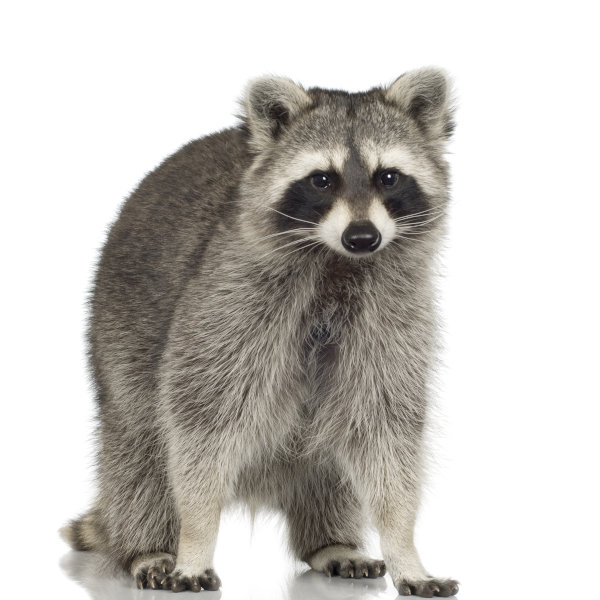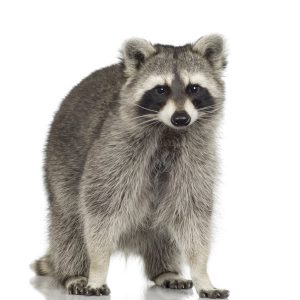 HUMANE RACCOON REMOVAL PETERBOROUGH
Raccoons are smart, nimble creatures that have adapted very well to modern environments. As the city of Peterborough develops and expands, raccoon invasions have become increasingly common. Raccoons often break into attics, decks, garages, and other structures to wait out the cold and raise their cubs. Don't let their cute appearance fool you, though – these are dirty animals that will cause a significant amount of damage. If there are raccoons on your property, you should have them removed as soon as possible.
We provide effective and reliable raccoon control services throughout the Peterborough area. No matter the situation, we inspect thoroughly and offer solutions to raccoon damages. We can find where raccoons are hiding and evict them humanely. Our wildlife shield technicians are thoroughly trained and experienced in all forms of wildlife removal to provide you with the best service possible.
CALL US TODAY AND OUR LICENSED AND TRAINED PROFESSIONALS WILL SOON BE AT YOUR DOORSTEP WITH A GUARANTEED SOLUTION.
RACCOON IDENTIFICATION AND CONTROL PROCESS
Our technicians only use humane methods of wildlife removal so that no one gets hurt. The first step of the process involves a thorough inspection of the property. We check every nook and cranny to find exactly where the raccoons are nesting and where they could break in again. During the inspection, we identify the potential causes of the raccoon issue and list everything we can do to prevent this from happening again. Our inspections give us a complete understanding of the situation, which allows us to provide our customers with the best service possible.
After the inspection, our technicians begin the removal process by pest-proofing the home and installing a one-way door to the raccoon entry point. This consists of a plexiglass flap that swings outward, letting the animals out safely while blocking their return. If there are cubs, we remove them by hand and place them carefully in an insulated box, just outside the den, where the mother will come get them. Raccoons usually leave their dens within a few days and find shelter somewhere else nearby. Once they are gone, we remove the door and seal the opening.
Our wildlife shield experts do everything they can to ensure that the animals are not hurt. Every technician has been thoroughly trained to provide humane and long-lasting solutions to all raccoon problems, no matter how complicated. They also have access to professional-grade cleaning equipment and disinfectants, so they can remove the odours and pathogens that raccoons have left behind. Our raccoon removal services are guaranteed and backed by a two-year warranty.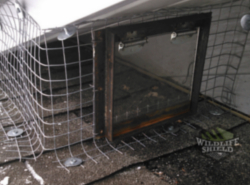 HUMANE RACCOON REMOVAL USING ONE WAY DOOR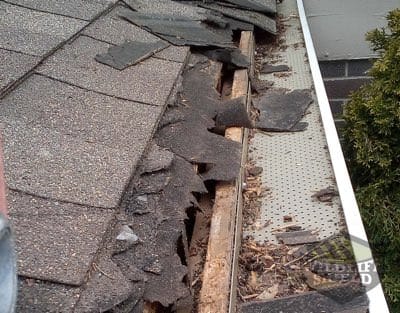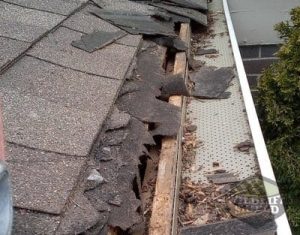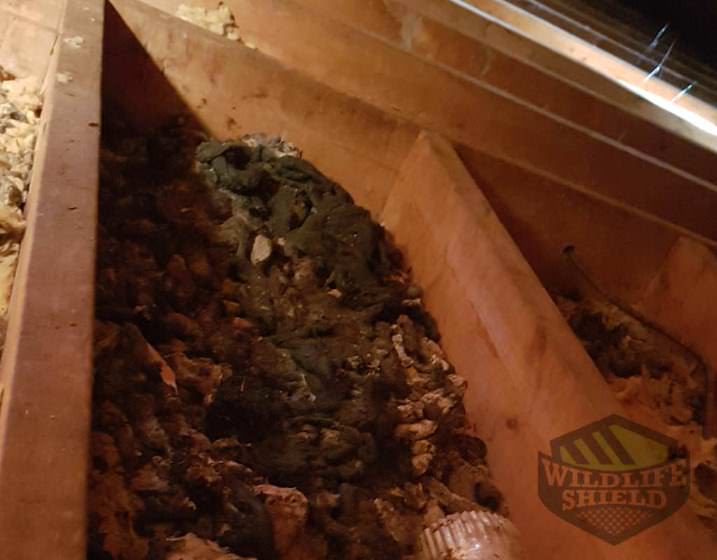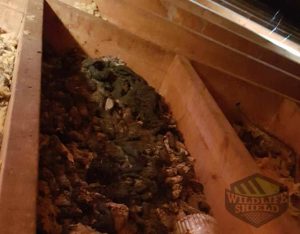 RACCOON FECES IN YOUR ATTIC
COMMON SIGNS OF RACCOON PROBLEMS
Raccoons frequently break into attics, decks, sheds, and garages to find shelter from the cold. Females will also invade throughout winter and spring to raise their cubs in a safe location. They may look harmless, but raccoons have the potential to cost you thousands of dollars in repairs. If you have noticed any of the following signs, give us a call and we will remove the animals humanely. If you are still unsure of what you are dealing with, we can inspect the property to confirm the species.
Raccoons make a lot of noise at night when they are most active. When raccoons infest the attic, residents can usually hear them scratching, thumping, and squeaking during evening hours. Raccoons are heavier than other pests, so they can also sound like a human walking or dragging their feet upstairs.
Raccoons are very destructive animals. They will tip over garbage cans and dig up the yard in their search for food. To reach the attic, raccoons will tear up the shingles or break open soffits and roof vents. Raccoons have also been known to damage chimneys and gutters. Visible damage on the roof or in the yard may indicate a raccoon problem.
Raccoons leave their droppings in the same locations, creating large piles of waste called latrines. These can be found near the animals' den, on raised surfaces like the roof of a shed. If you can access the attic, you may find a latrine in the insulation. Raccoon feces are usually dark brown and look a lot like dog poop.
DAMANGE RACCOONS CAN CAUSE TO YOUR PROPERTY
Raccoons are strong and dexterous, allowing them to manipulate the fixtures they find on the roof. They will break shingles, gutters, soffits, pipes, and vents to reach the attic inside. Once indoors, raccoons tend to compromise the insulation of the attic, crushing it and contaminating it with feces and urine. The holes that the animals leave in the roof also risk damaging the attic further with rain, snow, and the introduction of more pests.
As omnivores, raccoons look for food in gardens as well as garbage cans. They will eat the fruits and vegetables that people grow in their yards and dig up the soil to find insects. Raccoons have also been known to eat the fish in decorative ponds and swim in pools. In the summer, raccoons often make dens under sheds and decks where they will defecate nearby.
Raccoons pose a health risk because they carry several diseases and parasites. Raccoons spread these dangers in their feces, urine, and saliva. Latrines not only smell terrible but have the potential to make you and your loved ones very sick. Raccoons living in the attic will ruin the insulation and contaminate the air in your home. Getting too close to a raccoon also risks injury because these animals will attack when they feel threatened.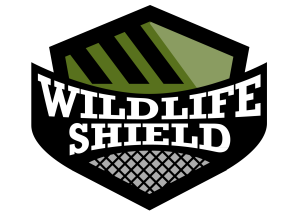 WHY YOU SHOULD HIRE A PROFESSIONAL
RACCOON REMOVAL SERVICE
Professionals have the skills, equipment, and experience necessary to remove raccoons properly. They have a thorough understanding of raccoon behaviour and will ensure that the animals are not harmed in the removal process. Professionals can also identify the causes of an infestation and address them so that this does not happen again. They may also provide additional services such as feces removal and disinfection. 
While you could attempt to remove raccoons yourself, there are many risks involved. Raccoons can be aggressive and cause serious injury when they feel threatened. Moreover, accidentally separating a mother from her cubs is inhumane and may result in further damage to the home. Trapping raccoons risks hurting the animals and relocating them is illegal in Ontario.
Hiring a professional raccoon removal service is much more reliable than handling the problem yourself. At Wildlife Removal Peterborough, we are so confident in our services that they come with a guarantee and warranty of up to 2 years. You can trust that we will remove the raccoons on your property and keep them out with our guaranteed exclusion. For humane raccoon control services in Peterborough, call: 705-410-3708.